May 18, 2009

These are the items we own that we love most, what are yours?

TONY:

Large Fuzzy Dice
In pulling together my favorite driving lyrics, this hand-bound book, "Large Fuzzy Dice," also collects most of what I am. It is a book made by Katie and an ode to the road. It lends itself to my childish enthusiasm for owning and showing off odd possessions to those who visit my home (here, car). Its cover features my favorite color combination. It cleverly channels a symbol of testosterone into something palatable. And for about three years, it dangled in rebellion in Michigan, a state disallowing even of air fresheners.
Mondrian Bowl
This bowl is a reminder of my lamest gift efforts for Katie and of her dedication and skill. She glazed this bowl at Clay Monet, a little pre-made ceramic shop targeting a demographic of young girls but perfect for a teenage date. I used this bowl for countless bricks of Ramen noodles at Hillsdale, made sure it stayed safe during a summer at the Beat, then broke it in Minneapolis by catching it. (I dropped it first, then caught it with a substantial grip, snapping the chopsticks hole, shown here as though repaired, which it isn't.)
Half Ramikin
I wore a blue bandana, blue Lake Zurich High School gym shorts, and my World Beard & Mustache Championships shirt featuring
Willy Chevalier
. Shane wore her tie-dye crabshack shirt, a bandana, and athletic shorts.
We were the Frazzled Riders, biking the Northwest Chicago suburbs after summer work shifts at Noodles & Co., often traveling to landmarks like area high schools, other Noodles restaurants, or a mythic sledding hill.
We were completely sober in an era when that was all I ever was and all I ever thought I would be.
We also went swimming illegally at night in Lake Zurich. We invited other frazzled riders like our Mexican co-workers, who joined in, and once watched my good friend (not from Noodles) get scraped up messing around at the local skate park during one ride.
We made many jokes about work, stolen snickerdoodle cookies, and the silly things we took from the restaurant, like Sriracha sauce bottles, big plastic cups, and a ramikin.
Shane drew a picture of a frazzled rider in that ramikin, then we busted it in half.
Desk Team
These items tend to stay together in my car or at my desk (not arranged as in this picture). They are:
Shisa Lions
, a good luck gift from Tomoko and Hide, two Japanese jugglers whom I carted around as special guests during a juggling festival. Most often kept in my car.
Glass dice from Venice: an alternative to a jewelry gift from the city Katie enjoyed so much during study abroad.
Princess ring: When I became really comfortable in the Minneapolis newsroom (and thought that displaying that comfort would assist in turning the internship into a job), I began wearing this ring. I took it from a birthday (or going away?) cupcake for a fellow intern. Didn't get the job.
Kickin' Shuttlecock: At juggling festivals we bought boomerrangs, jitterrings, paddle balls, and footbags. I also bought a kickin' shuttlecock, which acts like a footbag, but always turns over like a shuttlecock before landing. It is extremely easy to stall. I kept it for years in my video camera bag. Now I know it is not a silly time waster, but part of a
Chinese tradition
.
CHASE:
I need to preface:
Most of these items are fairly new. As in, they've been on the list for no more than three years. In my youth I had a box where I put my precious items: A stuffed rabbit my grandmother made me, panther pin (I was huge into panthers as a child), a clay pot I made in the sixth grade, etc.
Those items, along with the box they're in (a blue box with sports cars drawn on the side, and animal stickers stuck to the inside) are buried so far in all my stuff I didn't want to get it out. So there are more precious items. But the ones on this list are heavy hitters.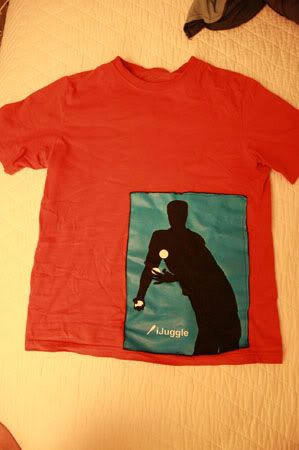 JUGGLING T-SHIRT
Unless I'm sleeping, I'm almost always wearing a t-shirt, and it's been that way since I can remember. Over the years I've amassed many shirts, and I can still wear the ones I wore in eighth grade.
I got this t-shirt as a birthday present from Tony, and it was a complete surprise.
Ever since my sophomore year, almost all the gifts I've given have been handmade (with the exception of
Yoshimi Battles the Pink Robots
,
The Presidents of the United States of America
(both special color LPs) and a movie). Likewise, my favorite gifts to receive are generally handmade. I needed an orange shirt, and this one provided not only the right color, but also a unique design. Check it, that blue juggling rectangle sits off-center at the bottom of the shirt. Awesome. Next to my National Public Radio t-shirt, this one is my favorite to wear, and I'm pretty choosy about when I wear it.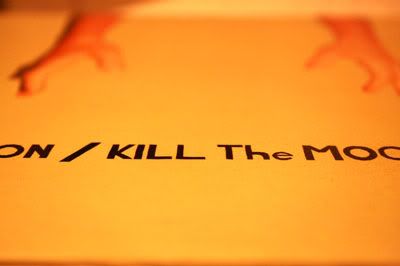 SPOON ALBUM: KILL THE MOONLIGHT (LP)
I bought this the year I interned in Toledo at the Toledo Free Press. During the summer I made frequent trips up to Detroit, including one trip in which I attended City Fest and got to see Spoon live...right up front.
That summer definitely ranks as one of my favorite summers yet, and as cheesy as it sounds, when I think about it Spoon is playing in my head.
Ever since then they've basically been my favorite band, and
Kill the Moonlight
was the first album of their's I listened to. When the needle of my record player hit music for the first time, it was Spoon. When I start my car trip to Arizona, the first artist played will be...Spoon!
THE EXPLODING TYPEWRITER
The first time I laid eyes on this piece of art, I knew it was going to hang on my wall someday. The process the artist took to make it, tossing it off a ten-story parking garage, was totally cool to hear about -- but I feel connected to it because it looks like how I picture how I think. Different ideas scattered all over the place...sometimes sharp, sometimes blunt...sometimes nothing sits on the end of the wire at all. But it was originally there to make words. I know it's cheesy, but it's my inanimate muse.
Later led to me drawing
this picture
onto a bag I made with my friend.
MY FIRST THREE JUGGLING BALLS
After I started juggling, Tony gave me these. I don't know their history, I wish I did.
Since I got them, they've become a representation of where my juggling is rooted, and really why I've kept it up. They were passed to me right about the time I started seeing myself as a skeptical optimist...
Every time I juggle with them I almost always think of Dr. Reist's line, "Watch out for life!"
"I LOVE HELVETICA" PIN
I love typography. A few summers ago I drove four hours, from Toledo to Chicago, to watch
Helvetica
a documentary film by Gary Hustwit. It probably ranks as one of the nerdiest things I've done. Even still, it was definitely one of the high points of the affair I'm having with typography.
After I'd seen a screening of the film, I waited eagerly for it to be released on DVD. The movie was mailed to me along with two pins, this "I Love Helvetica" pin, and another one that says, "I Hate Helvetica."
Now I don't,
love
Helvetica. It definitely has its own set of pros and cons...but for the most part I definitely respect it. So I chose to keep this pin and give the other to another typographic-nerd friend.
HONORABLE MENTIONS:
My sleeping bag, green shoes, camera, Louisville Slugger youth baseball bat
KYLE:
I have many. I'm sure whoever participates in this post will have a similar story. Editing sucks.
But the most valuable are as follows, roughly left to right in the photograph. Cue Wes Anderson soundtrack.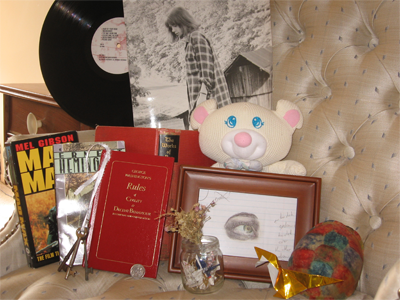 VHS copy of "Mad Max." Bold yellow letters on the cover declare: "The film that started it all." Nestled in and glared out is my paperback copy of Ernest Hemingway's "In Our Time." I've since compiled a near-complete collection of his works in the same Scribner's Classics publication, but "In Our Time" was the first. It includes my favorite story of his, and my favorite short story of all time: "A Very Short Story," a story which ends with one of the best sentences ever penned in the English language... in my opinion. Then of course there's my hardcover copy of the collected works of Poe. I would try to read from this book by candle or fire light in highschool, which seldom paid off, but I was sentimental and impressively full of myself.
And speaking of which, in front of that is my copy of George Washington's "101 Rules of Civility." This is valuable to both Vanessa and I. Freshman year I received a phone call from this pretty girl that Tony introduced me to at the Woody Hermann Jazz Concert, inviting me to hang out in her dorm room with some friends. Not knowing what I was getting into, and wanting to make an impression, I brought along my little red book, George Washington's "101 Rules of Civility," just in case there was some down time and I could show everyone what cool things I was reading. As you can imagine, Vanessa failed miserably to be impressed, and spent the next three years pulling my head from my ass.
In back is an album which has remained vital to Vanessa since highschool: Cat Power's "Moon Pix." Check out the cover online some time, her and Cat Power are were almost twins... before Cat Power got close-to-death thin, went through rehab, got lame, and did a photoshoot for Chanel. And next to that is a photograph of Vanessa which she took of herself on her grandparent's mountain in Kentucky.
Below this is a teddy bear. No comment. And along those lines, there are many dirty Polaroids of Vanessa and I, which I have not included, but which still hold great value to the two of us.
Moving on, framed is a little sketch I did of Vanessa's eye, from memory. I did it in Caspar's U.S. Constitution class, and colored it that night. "She's got Bette Davis eyes..." whatever that means. And a jar, which is a Vanessa pick, containing flowers that I picked for her at Bawbeese Lake and a collection of tiny origami swans which I folded for her in class. And staring them down is Goldasaurus Rex, a recent addition to my valuable items. Thank you Tony for the far out origami paper. And on the other side of the jar, in front of "101 Rules of Civility," is a buffalo head nickel, used in American currency before World War II, on which the date has been completely worn away. I carry it in my pocket always.
Also, a turtle shell, which Vanessa and her best friend since childhood, Ashlyn (maid of honor), used to cast spells when pretending they were witches. And associated with such things is the Grange Hall Curse of Pittsford, MI, where Vanessa grew up. Grange Hall was the meeting place of the elders of the small farming community of Pittsford. It was run-down, weary, with strength only to raise its arched windows like the utmost knuckles of a spider's legs. It was a place of the dark maturity of knowledge, and the suffering that follows with it. If a young girl looked at this sacred building three times on a full moon, the earth would swallow her up. Such a place was, of course, kept locked. Which is the explanation behind the ribbon of skeleton keys hanging in front of my books in the photo. They were collected by both Vanessa and Ashlyn, and whenever a new one was found, the pair went immediately to Grange Hall, to see if the key would fit the lock. The door was opened to them, and the building now lines in ruin, a pile of wasted brick and naked air. And yet, Vanessa agrees, that the interior of the building disappeared with the building itself- its 21 grams- gone forever and made no less mysterious by the crumbling of the walls then it was by the immutable tiny space of the keyhole.
Moving on to picture two.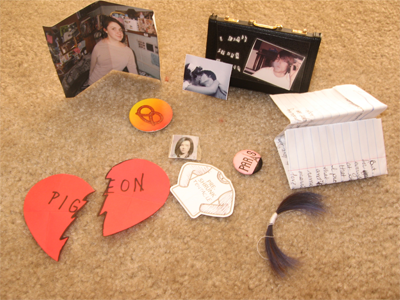 These are the most valuable items I possess. I keep them in a tiny, calculator-sized briefcase which Vanessa decorated (by collage) and gave to me. It contains: a letter she wrote me, my favorite photograph of her (taken by Karen) which I boldly asked her for long before we were dating, a "broken heart" with Vanessa's pet name "pigeon" written on it, the context of which I've totally forgotten, a pog with a note on the back, in pencil, reading "I'll wait for you by the bench," a mall booth black and white photo of us kissing (just like the movies), a picture from an animated film which Vanessa taped onto her school i.d., a pink "Paris" button which she often wore, a "pre-shrunk shirt" (long story), and a lock of her hair, when she dyed a piece of it blue.
But I saved the best for last:
"Sometimes I feel like a black crow wandering the borderline/ Just looking for a post to hold my toes/ And maybe its in these fields beyond/ Where lost mornings lie/ And where, in the end, the time goes."
These are lyrics. On notepaper. From sophmore year. Written by Evan Moran.
ECON:1. Gary and Len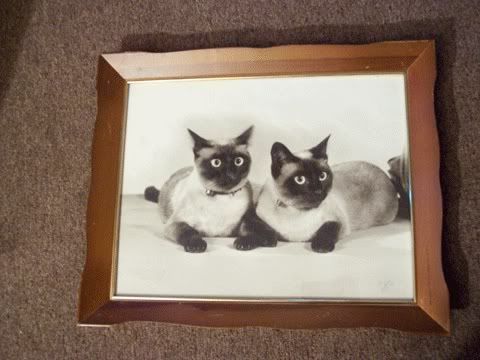 Read the story of the brothers
Gary and Len
. I paid 75 cents for this framed photo at a second hand store in Allen, Michigan. When I got home and hung it up on the wall, I said, "this is the best thing I have ever bought."
2. Keyboard
This is the Casio keyboard in my bedroom. I would have posted a photo of my
Hammond M3 organ
, but it's already at my new house.
3. Pistol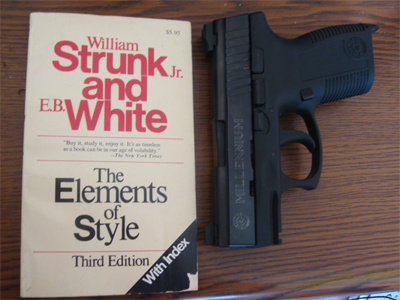 Outside of my car
, this is the most dangerous item in my home.
4. Bathrobe
Out of all the clothing I own, this is the only article I wear every single day without exception. Combine with #3 for Zissou-style fun.
5. Car
This is my first car, a 1993 Bonneville, which I purchased in 2002. This photo from 2008 shows the car on its last legs, shortly before I sold it to Randy in Indiana. Then I got a Corolla.
JACK:
"I'm not gonna get too sentimental/ Like those other sticker valentines..."
How bad is it that, of the three things that immediately came to mind when Chase asked this question, two are missing?
And how telling is it that so much of it is sports clothing/ memorabilia?
In all honesty, this was really hard to come up with, but I was able to manage a few essential precious things I love.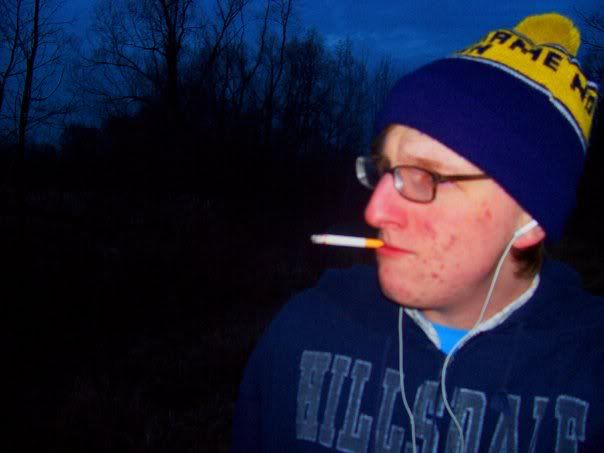 Let's start with my earliest piece from memory lane: this Notre Dame Fighting Irish knit cap. I've had this thing since I was 5 years old,
as you can see here
. My dad must have bought it for me at an Irish football game. He went there. It's kind of a big deal (at least, it was). So that's my shout-out to him.
Also, I can't find it; it's probabaly in one of the other four places around the country where my stuff is being stored.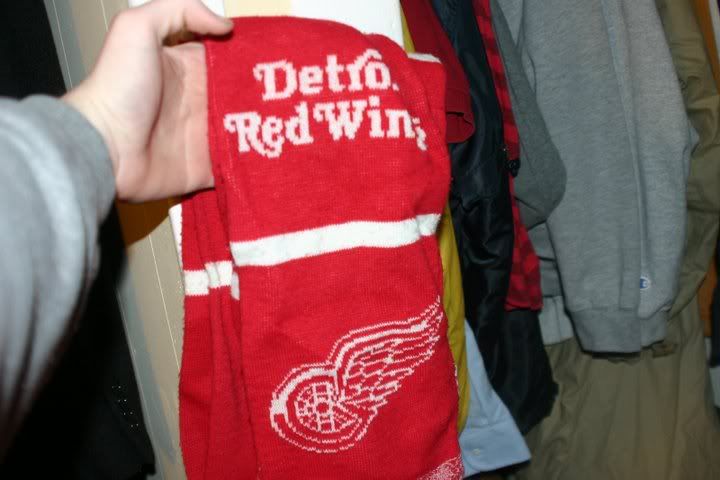 Next up, is this lovely piece of apparel: my Red Wings scarf.
FACT: I didn't own a scarf (that I wore) until I bought said scarf last year. It was $5 at CVS. I bought it with Heidi. Which wouldn't be necessarily something to remember, except I keep cracking up when I remember the chance confrontation we had with her old middle school friend who got pregnant and smokes crack.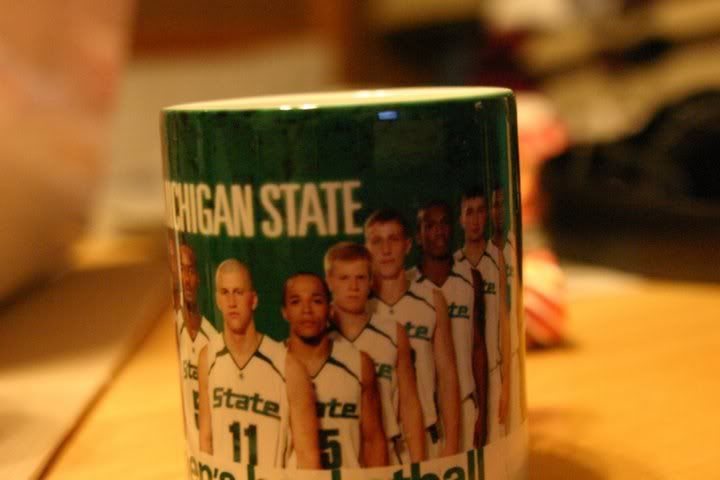 Another beaut: this mug, purchased at the Hillsdale Salvation Army Store. Goes along with
this
, also purchased there. Not sure why I love these items to much, but I flaunt them now. Also, I like drinking out of
Drew Neitzel
.
I think I bought the sweatshirt for a Christmas party because it was green and I could wear my red vest over it. It's a gift that keeps on giving, though: I practically didn't remove it during March Madness this year.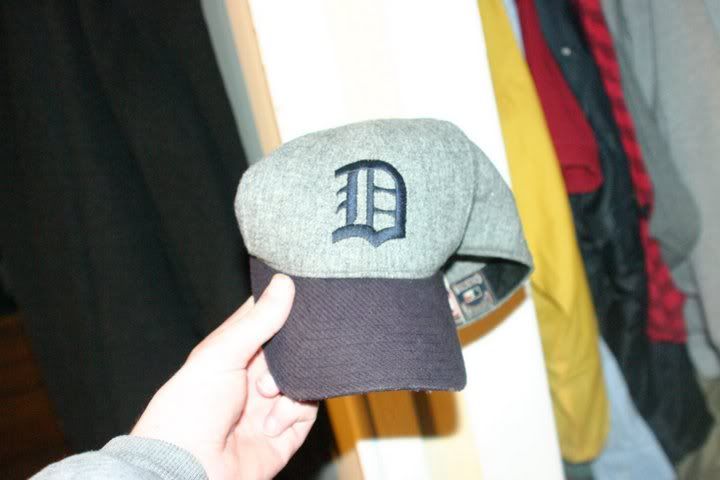 Also a mainstay: this Tigers hat. Something happened to
my old one
, but I was wearing it less and less anyway. The blue had faded to grey and the orange was barely a color. But this new one I like: my parents bought it for me when we went to a sweet baseball exhibit at the Henry Ford Museum.
T-shirts: I have about four t-shirts I treasure. One says "Norway" on it. I bought it ironically. Naturally, I can't find it (or a picture of it).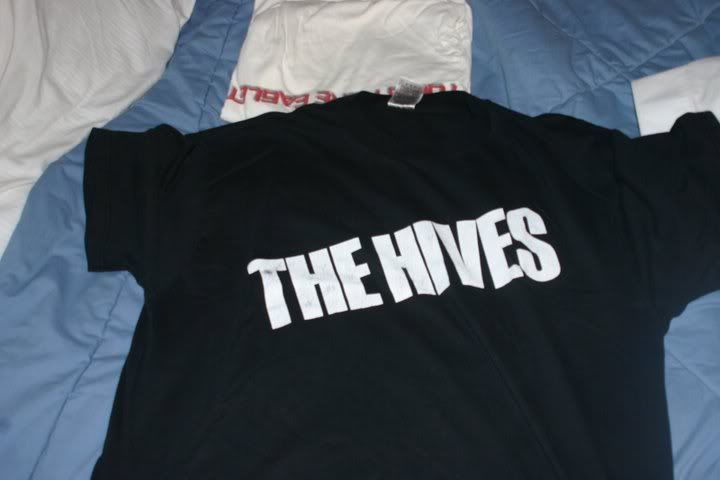 -Another is my legendary Hives t-shirt. We all know the story behind it and me in college.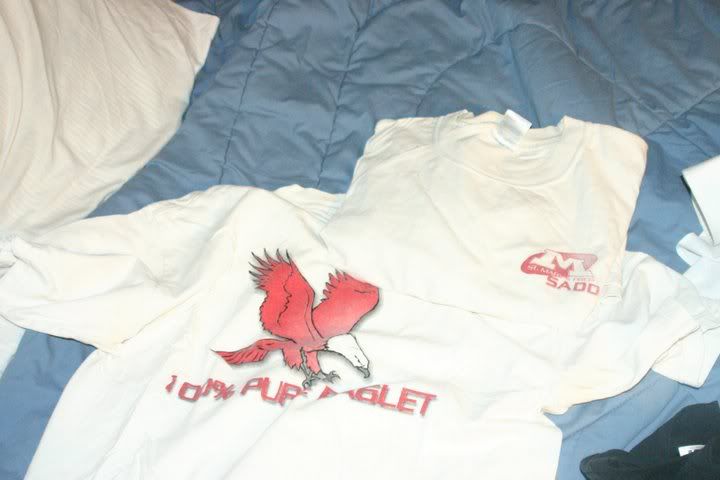 -Third, these two identical St. Mary's Prep SADD (Students Against Drunk Driving) t-shirts. One is long-sleeved and is often worn under t-shirts. The other is short-sleeved, has gross pitstains and holes in both pits. It's very wrinkled. Both were worn in high school to virtually every sporting event I attended, and both (specifically the short-sleeved one) I think I wore to track practice every day. Yeah, it's gross. But both (along with a track t-shirt I own) fool people into thinking I was athletic in high school.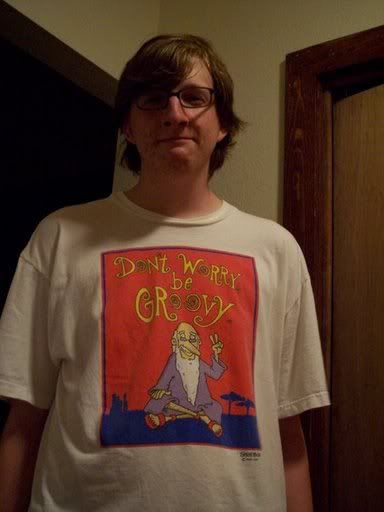 -The final one is my favorite. It belonged to my dad: "Don't Worry, Be Groovy." No explaination necessary.
As for non-wearables: a burned copy of Pavement's
Brighten the Corners
. The problem? I can't find it. It's a burned copy. I might have even given it to someone. But the story goes: My friend Geoff in high school was an indie nerd. I was not yet, until one day when I was hanging out with him, he showed me this website called "Pitchfork Media." We looked on it a little, I think he was showing me the top albums of the 1990s. The aforementioned album was on there. I asked if he'd heard it. He simply turned on his CD player and it was already in there. We listened. I loved it. I asked him to burn it for me but he just gave me his burned copy.
I must have worn that thing out. I now own it on vinyl and on the new deluxe-editon CD, so it's not like I "need" the burned copy he gave me. But it did do something important: it was, for better or for worse, my first "indie" experience. As a point of reference, I was listening to Green Day and Nirvana before (still awesome, for the record, but not Pavement), so this was a big step.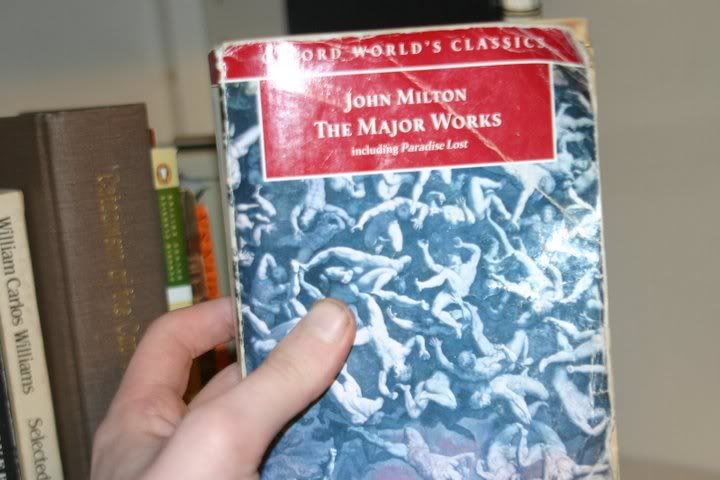 Finally, and inexplicably: the one book that I've carried around with me wherever I move has been the edition of the
Major Works of John Milton
that we used in Dr. Belt's ENG 401 class junior year. It's marked up, I think I left it in the car for a while and then in the rain once, and it has wear and tear on the cover and a bunch of scribbles in the margins. I open it up every once and a while to read some of the sonnets, and, if I'm feeling adventurous, a little bit of the Satan parts in Paradise Lost. No idea why this is the one book that I wrote in the most during college, or why it's one of the few things I actually read during college that I still occasionally re-read to this day (sorry, Chaucer, can't do it). Maybe it has something to do with Dr. Belt and the fact that she introduced me to so much of what I think about literature. Either way, it's ironic considering how much I hate all the ilk that Milton wrought.
Labels: life, precious items