June 16, 2008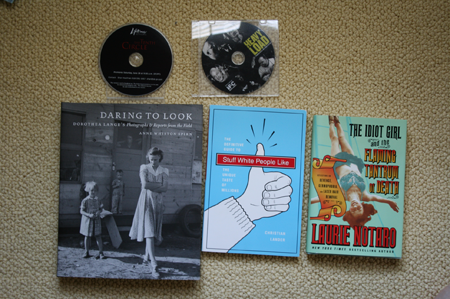 Today I discovered a table in the newsroom with all the tossed aside items the paper chose not to review. Movies, books, music...nail polish. So today I decided to take advantage.
In the bag:
+ Heavy Load -- A new documentary about a punk band called Heavy Load, whose members include some musicians with learning disabilities.

+ The Tenth Circle -- Just for fun I picked it up. "The Stone family's seemingly idyllic lives are shattered when their daughter, Trixie, is the victim of a date rape." A Lifetime Network movie. 'Nuff said.

+ The Idiot Girl and the Flaming Tantrum of Death, by Laurie Notaro

+ The Definitive Guide to Stuff White People Like, by Christian Lander

+ Daring to Look: Dorothea Lange's Photos and Reports from the Field

+ In the Heights winner of The Tony's Best Musical Award
Also it looks like I'll be reviewing
Outlaw Journalism
a book about Hunter S. Thompson. Sweet.
Labels: books, Hunter S. Thompson, movies, music, treasure