September 11, 2010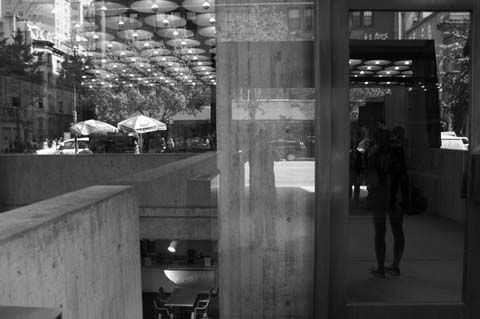 NYC + BOSTON
Philadelphia is the only major East Coast city I have yet to visit.
This past weekend I went to New York to visit with good friend
Lauren Chester
. Two days later, I huffed it up to Boston to spend a couple of days with
Drew Allison
.
My journey started after I boarded a Megabus from Washington D.C. to Manhattan. Six long hours, one of which was spent in the Lincoln Tunnel.
Lauren lives in
Brooklyn
in a cool little community seemingly populated by mid-sized dogs eager for pets. Getting off the subway and climbing the steps into the street was a shock. Parts of the neighborhood sit in total silence.
We ate Thai and people watched for the first night.
The next day was packed and pleasant. Starting at
The Whitney Museum of American Art
, where we took in a Lee Friedlander exhibit:
America By Car
.
It was amazing. And, admittedly, I was swimming in Friedlander for the rest of the weekend. The photo exhibit really got me pulling my camera out a lot. I started noticing more reflections and really began to
anticipate
possible cool shots as people
strolled
down the street.
From there, Lauren and I made our way from the Upper East Side into
Strand
, a city bookstore that claims to have 18 miles of books inside. I found some cool stuff, but opted to save my money for a trip through
SoHo
and finally, Indian food at my favorite place to eat in New York,
Panna II
.
The best was yet to come.
As a special treat, Lauren and I went to a warehouse party in Sunset Park. Dubbed
"Stranded in the Forbidden City"
, the party was packed with well over 1,200 creative types looking for ridiculous fun. Eight beers and one mixed drink into the night found both of us dancing with hundreds of others...excited about the silliness of it all.
Also at the party: sumo wrestling, a private circus, a jail, juggling, fire eating, fortune telling,
tattoos
(please read the comic behind us), tours and odd games.
We stumbled (literally) back to her place around 4 a.m. -- people were still streaming into the party. We were told it would go well into the morning.
The next day: Boston.
Drew and his girlfriend, Amy, were amazing hosts. Having moved recently from Cambridge to Brighton, I was the inaugural house guest. The setup of their place was great...and their record collection super impressive.
We crashed early that night, but only after an incredible dinner at
The Publick House
where I discovered I can actually like an IPA, so long as it's Belgian. Good stuff.
Amy and I ordered burgers. Drew got expensive mac 'n cheese. It was delicious.
The next day was
epic
.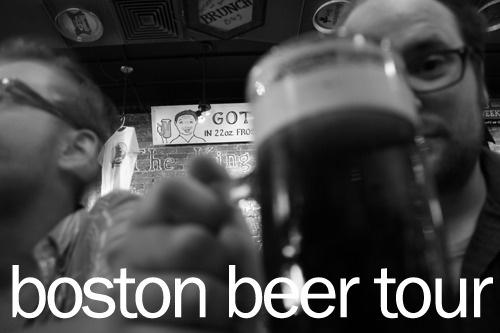 We started at 11:42 a.m. in Cambridge at Boardwalk Cafe with a
margarita
and delicious plates of Mexican food(click the hand-drawn map for a larger version of the trip).

The next stop, perhaps the most refreshing, was at Charlie's Beer Garden (still in Cambridge) where we had Hoegaardens. You can find that on our list, along with other
documents
we kept for the journey.
We stopped in music venues, Chinatown, Little Italy and tourist central. We saw live statues, sailboats, more
reflections
and ate $1 hot dogs.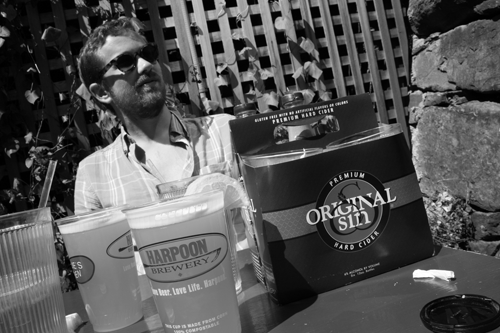 I think we actually became officially drunk once we reached
Uniform
. With a Golden Monkey and a Prima Pils in our stomachs, we moved on to the next spot: The Pour House for Newcastles and The Lower Depths for Stellas.
We met Amy and went to a bar near Fenway Park to eat chicken wings and finish out the bars with more Stellas.
Drew and I fell asleep on the train ride back to Brighton...and after one more Newcastle we crashed.
I woke up tipsy for my flight home.
---
Since getting back, the week has been perfect. Really.
Tony and I worked on our third story in the saga of Kim Romero, an American woman who married an undocumented Mexican immigrant and then struggled to get him back into the country legally. Her story is pretty amazing. Check out the
story
and the
video
.
We saw
Machete
...which was awesome...as expected.
Finally, Tony and I went to Charlottesville last night and saw Dungen, who 'rocked our faces off.' The band, simply put, has complete control over their music. And between the old and new songs we heard I think we were pretty blown away. I really want the new album.
After a week of moving and shaking around, it'll be nice to settle in and chill out for a bit.
Labels: beer, Boston, friends, Lee Friedlander, New York, photography, travel